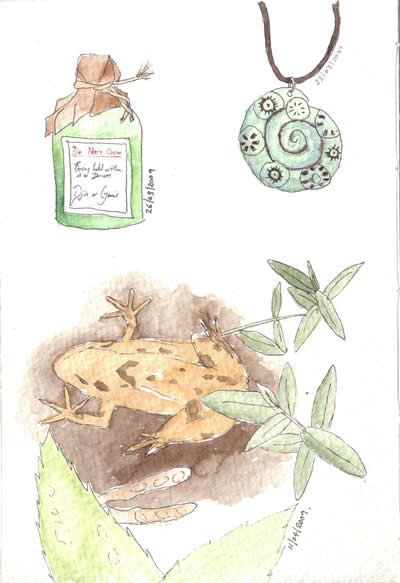 A few weeks ago I started a page of random sketches. I did two late at night while I was sat in bed – one was a pendant I'd just been given, and one was a curious bottle – both were chosen because they caught my eye whilst I was in bed. The rest of that page has remained blank for a while because nothing else appealed to me (and I've been so exhausted lately that I've gone straight to sleep each night!).
Today I was at work and we found a toad. He was rather lovely, so I snapped a quick photo with my phone before we moved him to a safe spot behind the shed. Mr. Toad became the missing piece for that page of random sketches, and as it's the 22nd World Wide SketchCrawl (http://www.sketchcrawl.com/) today it would have been a shame not to do at least one sketch!
I'm a bit sad that I was too disorganised to participate in this SketchCrawl, and I had been hoping to make it my first. Never mind, there's always the next time, and I think to make up for it I'm going to try and get up early tomorrow and go for a drive to find something funky and local to sketch.